How do you choose a book? Do you ever judge a book by it's cover? We all do. When I was sharing my thoughts about the book cover concept, a friend commented, "I did not realize how much thinking goes behind a book cover."
So let me share some of the thoughts that went behind the cover of  "Stress To Joy".  
There are several components of a book cover of which the most important are; the Title, the subtitle, the concept, the colors and the image.
First the title. Like everything involved in this process, title for the book has gone through many transformations. It started with "Tips for Happiness", then "How to be happy and stress free" then "The Bridge to happiness", then "Stressful to Joyful" and finally "Stress To Joy." This was the winning title because it represent the essence of the book so well. Similarly the subtitle went thru many versions and testing to arrive at the subtitle of "Your Toolkit To Restore Peace of Mind in Minutes" as the book consists of many tools that could be used at different times.
The concept for the cover went thru many versions too. When I saw the concept where the Joy seem to cut out stress, I instantly felt that it is reflecting the message of the book beautifully. The happiness habits can cut out the effect of stress in life. The warm colors and the relaxing image creates the feeling of hope and desire to take action. The clean design, contrast of colors and enough of empty space not only attracts the eyes but soothes the mind. So here is the cover of "Stress To Joy"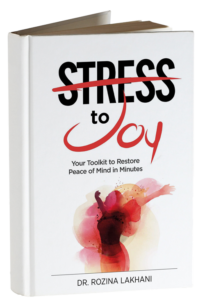 I would love for you to leave a comment below on what you think of my book cover. Please also feel free to comment on what subjects you would like to see on future blog posts. Comments will appear after moderator review, thank you for sharing your thoughts with us.
To your health happiness,
Dr. Rozina
Sign Up to receive the free audio "Feet to Floor" – a great exercise for your mental health toolkit!