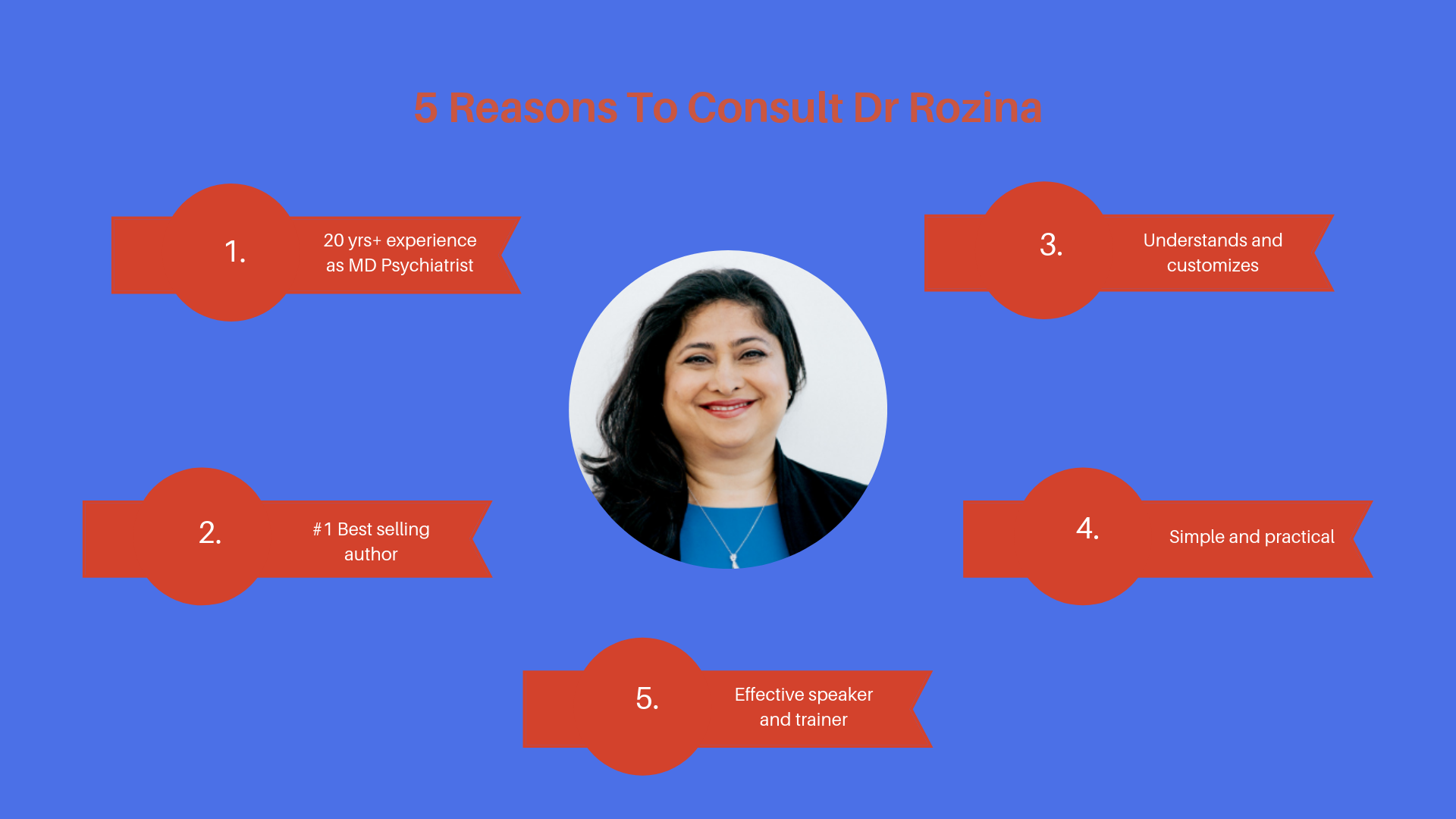 Why I Do It?
My name is Dr. Rozina. I am a medical doctor-Psychiatrist, a Speaker and a # 1 Best Selling Author. Over the last 20 years, I have treated people with stress, anxiety, and depression. Now I take the techniques that work in real life to people to prevent unnecessary suffering. Since my internist doctor friend brought my attention to the fact that:
an increasing number of young professionals are having physical problems like heart attacks, high blood pressure, headaches, sleep problems and many more.
They go thru a million dollar workup only to find at the end that the underlying cause is increasing, unmanaged stress.
They don't feel comfortable talking about stress or seeking care due to fear of negative repercussions
I have been on a mission to take the training to corporations to help them develop their biggest asset, their workers. I and most successful corporations believe that happy and healthy employees perform better, are more productive and are more positive. With the mindset training, they develop their presence of mind, passion, and purpose. Their improved focus and solution-focused thinking mean increased profits for the organization.
Simple and Practical Tools
"Each corporation has its own culture.  I customize the training based on each organization's needs."
AN EMPLOYEE MINDSET TRAINING FOR POSITIVITY, PRODUCTIVITY, AND PERFORMANCE
Transforming Work Stress To Joy
An Employee Mindset Training for Positivity, Productivity, and Performance
Learn:
* How to transform challenges into opportunities
* How to cope with difficult co-workers
* How to bring passion with purpose into their day to day work
* How to prioritize to get the most important work done
* How to overcome overwhelm, irritability and worries and much more.



Mindset Training For Managers, Executive and Owners

Transforming Management Stress to Joy;
L

earn:
How to manage multiple demands

How to cope with difficult subordinates

How to bring inspiration into their department

How to create work-life balance

How to overcome overwhelm, irritability and worries

…and much more.
W
ellness
I
nterventions for
L
ife
D
emands
Approved 30-day mental Wellness Program
Simple, Integrated, Prescriptive and Trackable. In this program, participants would learn proven techniques, how to easily incorporate 5 proven wellness tools into their busy lives for health and happiness
Exercise

Mindfulness

Sleep

Social Connectedness

Nutrition
TESTIMONIALS
"Engaging, warm, and knowledgeable, Dr. Rozina guides participants through stress reduction activities, helps them find the time to practice mindfulness, and explains the "how" behind the techniques in easy-to-understand terms."
"Dr Rozina Lakhani is a great person and a motivator speaker, she motivates the audience in utilizing learning tools that really improves the quality of one's emotional life!!"
"Congratulations Dr. Rozina!!! Many lives will be touched and changed through your powerful message!!"
"Thanks for sharing your knowledge, plz consider hosting webinars for follow up and updates."

Let's Build a Happy Workplace to Work!